Once again, thanks to Karla, I was able to see the Plain White Ts at the 91x Studios.
Going in, I didn't know what to expect. I couldn't recall one song of theirs. But I always enjoy free shows and I like to be surprised. They played 4 songs off their album. The Plain White Ts told us about their morning, which consisted of eggs. And to be honest, I don't think the DJ did a great job of interviewing them. He could've asked some better questions and actually studied a little about the band. The band kept correcting him when the facts weren't exactly right.
The guys were coming to San Diego fresh from Las Vegas, well, not exactly fresh as they all looked to be hung over. And the proof was to be seen at the autograph table. Their rider consisted of Corona, fruit, water, triscuits, and something else. One of the band members even had his sunglasses on at the table! But they put on a good show for the lucky few that saw them at the 91x studios. I wasn't fond of the drummer. He just didn't rub me the right way. It seemed like he had a chip on his shoulder. I don't know.
How would I describe them? They're a little poppy, but with some rock appeal. It was an acoustic set, so I couldn't get the full picture when it came to this band, but I liked them. I'd buy their cd to hear the rest of their songs. Their newest album is titled
Every Second Counts
and here's a link to their website.
Link
Pictures...
Plain White Ts
Tom & Dave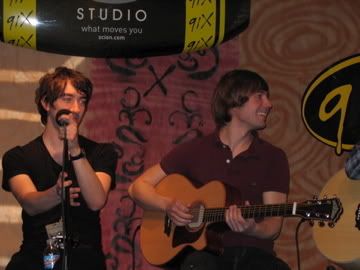 De'Mar & Mike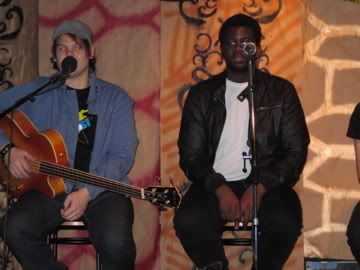 Tim & Dave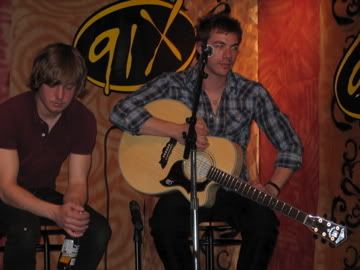 Tim